Valentine's Day Gift Ideas : Your Guide
on Mar 17, 2022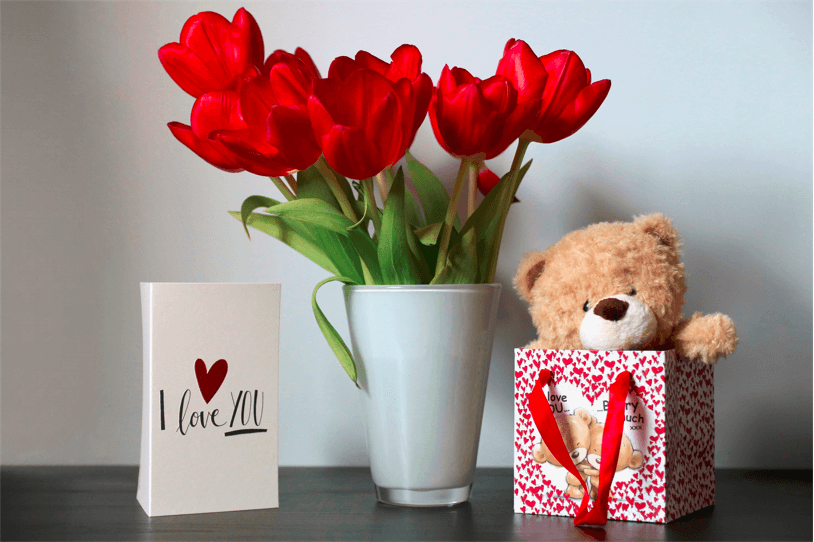 It's February, and love is in the air! You can see the color red everywhere, that's because Valentine's Day is right around the corner and sending love to your partner is what it's all about. Valentine's Day can be celebrated with a sentimental gift of flowers and chocolate. Still, you might want to go above and beyond if gift-giving is your love language and surprise your partner with the perfect valentine's day gift. Here are some Valentine's day gift ideas.
Best Valentine's Gifts for Him
What are you getting your man for Valentine's Day? It highly depends on what he loves. Here are a few ideas that might help you choose a men's Valentine's Day gift.
Wallet
Whenever you're shopping for a gift for him, the first thing that comes to mind is a wallet or a cardholder. They're easy to choose from and can be found in multiple stores around the shopping mall. In fact, it's a gift he would use all the time and will have it with him everywhere he goes.
Watch
Let's take it back in time to the old days before smartwatches came to life. Get a vintage watch for your partner this valentine's day and personalize it by engraving the sides with your initials or anniversary date.
Bracelet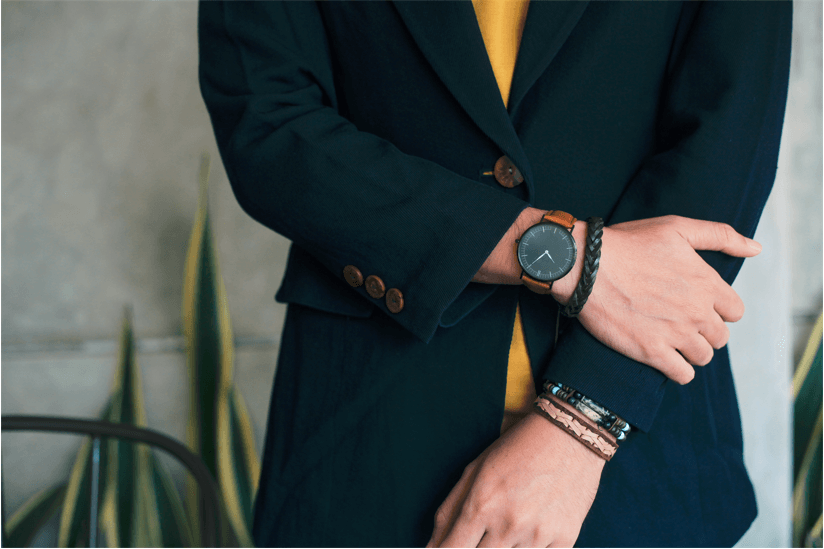 Bracelets are one Valentine's Day gift idea for men, but they're not for everyone. Some enjoy wearing them, others prefer not to. So before purchasing a bracelet, make sure he wears them. If he does, find what you're looking for at one of the many stores at Nakheel Mall.
Wireless Earbuds
Every tech enthusiast needs a wireless earbud to get them through the day. That's why a perfect valentine's day gift could be new earbuds. They can be used anytime during the day, whether at work, the mall, or even when going out for a jog.
Electric Shaver
Does he have an electric shaver? He might need a new one, and it'll be a surprise gift for Valentine's Day. An electric shaver is used by men every other day, hence it's good to get a brand new one when it's possible.
A New Gadget
If your partner's tech-savvy, then a new gadget should be on top of your list. Stay updated with the latest technology and make sure to purchase what's missing from his collection. It could be a tablet or a smartwatch. Either way, he'll love it.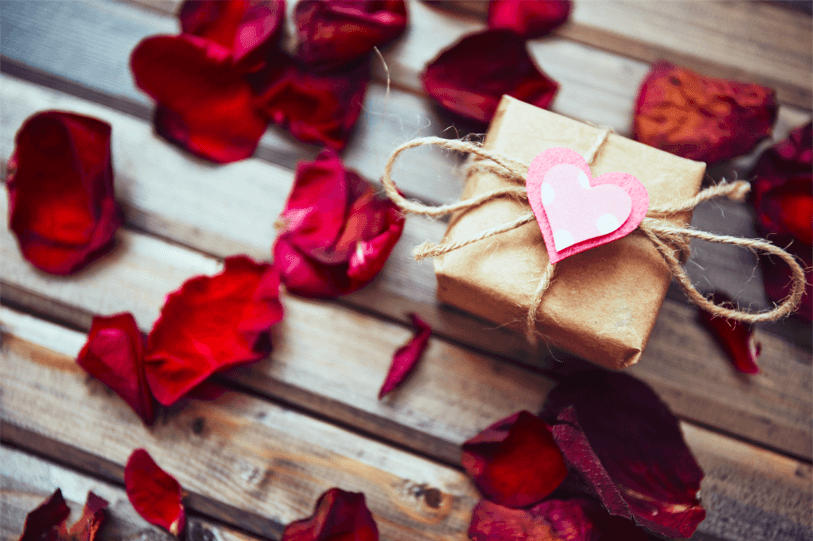 Joggers
Joggers for men have been in style for a while. Every man has one in his closet, but updating his wardrobe collection with a pair of new joggers doesn't sound like a bad idea. It's the perfect Valentine's Day gift that's used regularly.
Sneakers
You can add a new pair of sneakers to his wardrobe, but which one highly depends on his style. If he enjoys jogging, then running shoes should be on the list. If not, there are multiple styles to choose from when shopping at Nakheel Mall.
Lego
Lego could be your go-to gift for a change for this Valentine's Day. It gives him a chance to express his creativity and spend time doing something he loves. There are different themes to choose from, so you can choose a set depending on his interests.
Best Valentine's Gifts for Her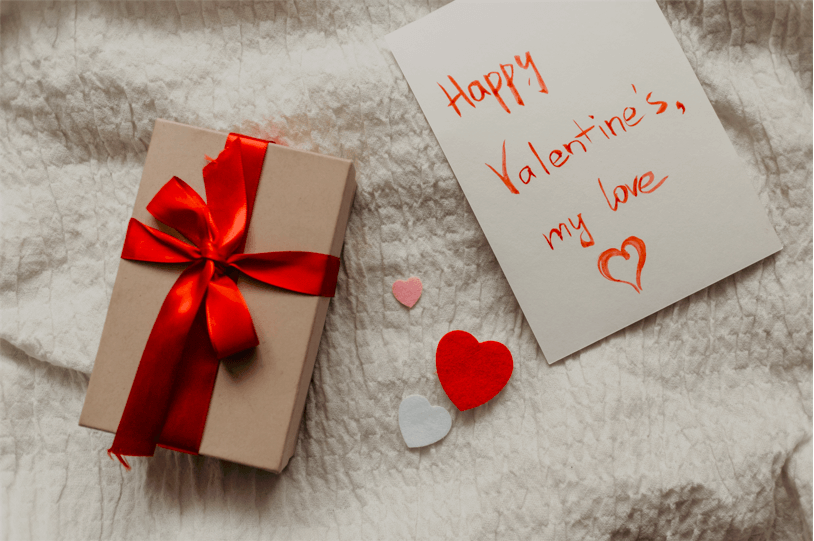 Are you thinking of what to get for her this Valentine's Day? These gifts will make her heart skip a beat.
Chocolate & Flowers
All she needs is love, but some Valentine's Day flowers and chocolate wouldn't hurt. There's nothing more meaningful during Valentine's Day than her favorite chocolate and flowers delivered to wherever she's at. Chocolate and flowers are an excellent way to express your love, gratitude, and appreciation, and of course, delicious chocolate is never a bad idea.
Läderach has something ready just for you this year. Make sure to head there for some extraordinary chocolate for your loved one. Then stop by Dantel Flowers for a bouquet to complete your Valentine's Day gift.
Teddy Bear
A teddy bear and a card will, along with chocolate and flowers, is a winning combination. This is a classic Valentine's Day gift, but it will be extra special coming from you.
Jewelry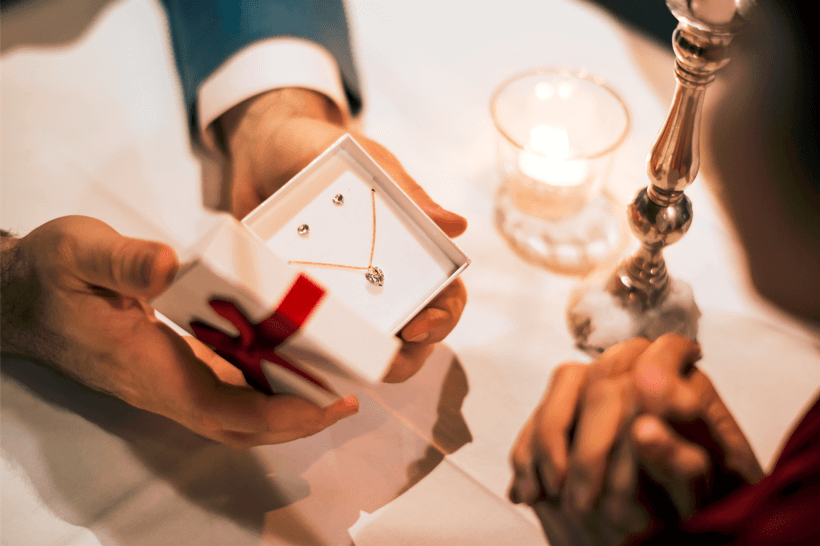 Diamonds are a girl's best friend. That's why jewelry should be on top of your list of gifts for her this Valentine's Day. Make her heart sparkle with a diamond ring, necklace, or earrings from VIP Jewellery in Nakheel Mall.
If you're only looking for a gold necklace, shop from the available trendy collection. A horoscope necklace will be a perfect gift for this year, as it's one of the latest jewelry trends this year.
Sunglasses
Buying sunglasses can be a little tricky because it might be hard to find something suitable for her. It's something she needs to match her outfits and protect her from extra sunny days in Dubai. Check out Yateem Optics for some unique and trendy sunglasses.
A New Dress
Are you going out on a date tonight? Then surprise her with a beautiful new dress for the dinner date you've got planned at night. However, make sure the new dress is chosen based on the restaurant's dress code and her style.
Shoes
A gift that works for both genders. Shoes and bags can make or break any outfit. That's why getting her a pair of shoes will make her very happy. Keep an eye on our shoe stores to find the pair missing from her wardrobe.
Straightener
Most girls can't live without their hair straighteners. It saves the situation when they're having a bad hair day. That's why if it's getting old, then it's time for a new one, and a Valentine's Day gift could be the excuse. The Dyson Airwrap has been on top of every girl's 'wants' list recently, it'll narrow down the choices set for a new gift.
Perfume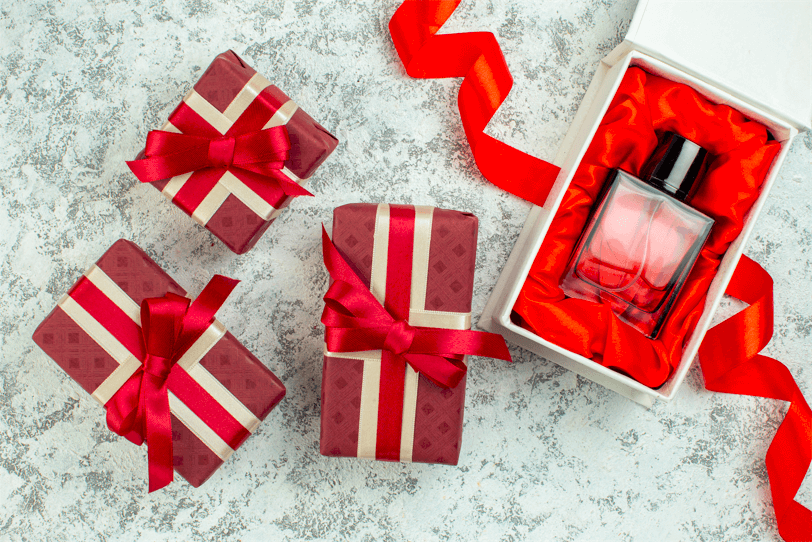 Perfume is a gift for everyone. It's an easy option to get for anyone, whether on Valentine's Day or any other day. Hence, you can spoil her with the scent she loves. Arabian Oud is the go-to place to shop for perfume, whether branded or local.
Body Care Essentials
Skincare and body care routines require a lot of items. There's a long list of body care essentials used daily. If you know what she prefers using, then beauty care essentials are a great gift for a change.
Home Accessories
Are there a few missing pieces from your home? That luxe crystalware you promised her with, remember? Valentine's Day is the perfect excuse to buy it for her. Crystalline has a luxurious collection and adds a touch of love with every purchase for homeowners.
Valentine's Day calls for the celebration of love, and a gift is always welcome. Find the best gifts from the stores at Nakheel Mall and make your partner feel extra special on this special day.